Valentine's Day Homemade Sweets
---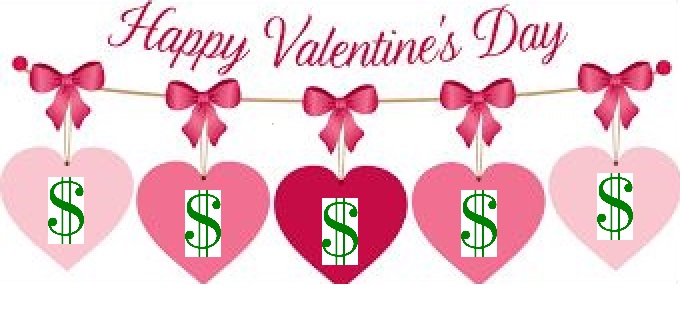 Valentine's Day gifts traditionally includes heart-shaped boxes of chocolates, sentiment filled cards, bouquets of fragrant flowers, and a romantic dinner for two at a favorite restaurant. Estimated cost to include "all the above" is a staggering $161.96. Consider the possibilities of saving yourself a few bucks and impressing your Valentine with homemade sweet treats made especially for him/her. It's much easier than you may think!
Is your Valentine a lover of "Sweet & Salty"? Then create the super easy treat of chocolate covered pretzels. You simply purchase a bag of small pretzels twist or sticks and a bag of chocolate chips (any variety will do, milk chocolate, white chocolate, mint chocolate, etc.). These chocolate morsels melt easily in the microwave (stirring every 30 seconds). Once melted, simply dip the pretzel (using a fork or set of tongs) into the chocolate, coating it with chocolate, then lay it on parchment or wax paper to harden. You can also use nuts, fruit, or even store bought cookies to dip in the melted chocolate and make a variety of chocolate covered sweet treats for your Valentine.
Equally simple, is flavored chocolates. Some of the "favorite" flavors I've used are peppermint, raspberry, orange, and coconut. As in the recipe above, simply purchase chocolate chips (suggest to use milk, dark or white chocolate), melt in the microwave then stir in your choice of proferred flavors (found in the baking isle of the supermarket, the flavors that can be added to chocolate can be found near the vanilla extract). Once flavor has been added, you can use silicone candy mold to pour the chocolate into and allow to harden or you can simply spoon bite sized portions onto wax or parchment paper and allow to harden.
And last, but certainly not least, is Quick AND Easy Fudge. Once again, you'll need to purchase a bag (16 oz) of your sweetheart's favorite flavored chocolate chips (I mostly use the white chocolate or milk chocolate variety), one can of sweetened condensed milk, and your choice of "add-in" (nuts, dried fruit, flavoring, or soft candy like caramels or mini-marshmallows, etc.). Empty your bag of chocolate chips into a microwave safe bowl (large enough to hold all ingredients and allow for stirring), add the sweetened condensed milk and microwave until chocolate is melted (stirring every 30 seconds). Stir until milk and chocolates are combined, add your choice of "add-in" and stir until covered in chocolate mixture. Pour into 9X13 cake pan and allow to cool and set-up. Slice into one inch squares and place into decorative box or resealable container.
You can find more sweet and easy recipes in the PDF link below. Simply click and the link will open automatically for you.
https://www.eagent360.com/broker_templates/images/Easy_Sweets_Recipes.pdf
Dream Home Finder
Let us help you find your Dream Home. Just fill out the form below describing your Dream Home and we will get back to you with matching results.
http://www.legacyrealtysales.com/dream_home_finder